Click a "Splash" Photo - Take Snapshots!
Clicking a photo is an art! There are so many elements to be considered - lighting, angle, post, and whatnot! Click your best shot that shows a "splash" action- a splash of oil in a jar of water or a splash of paint on a canvas! Get as creative as you can! Need inspiration? Watch Snapshots on DIYTV to learn about cool photography techniques! And don't forget, each post earns you XPs that help you climb the XP Leaderboard! So, get clicking and posting!
Explore thousands of Live
& Video based
projects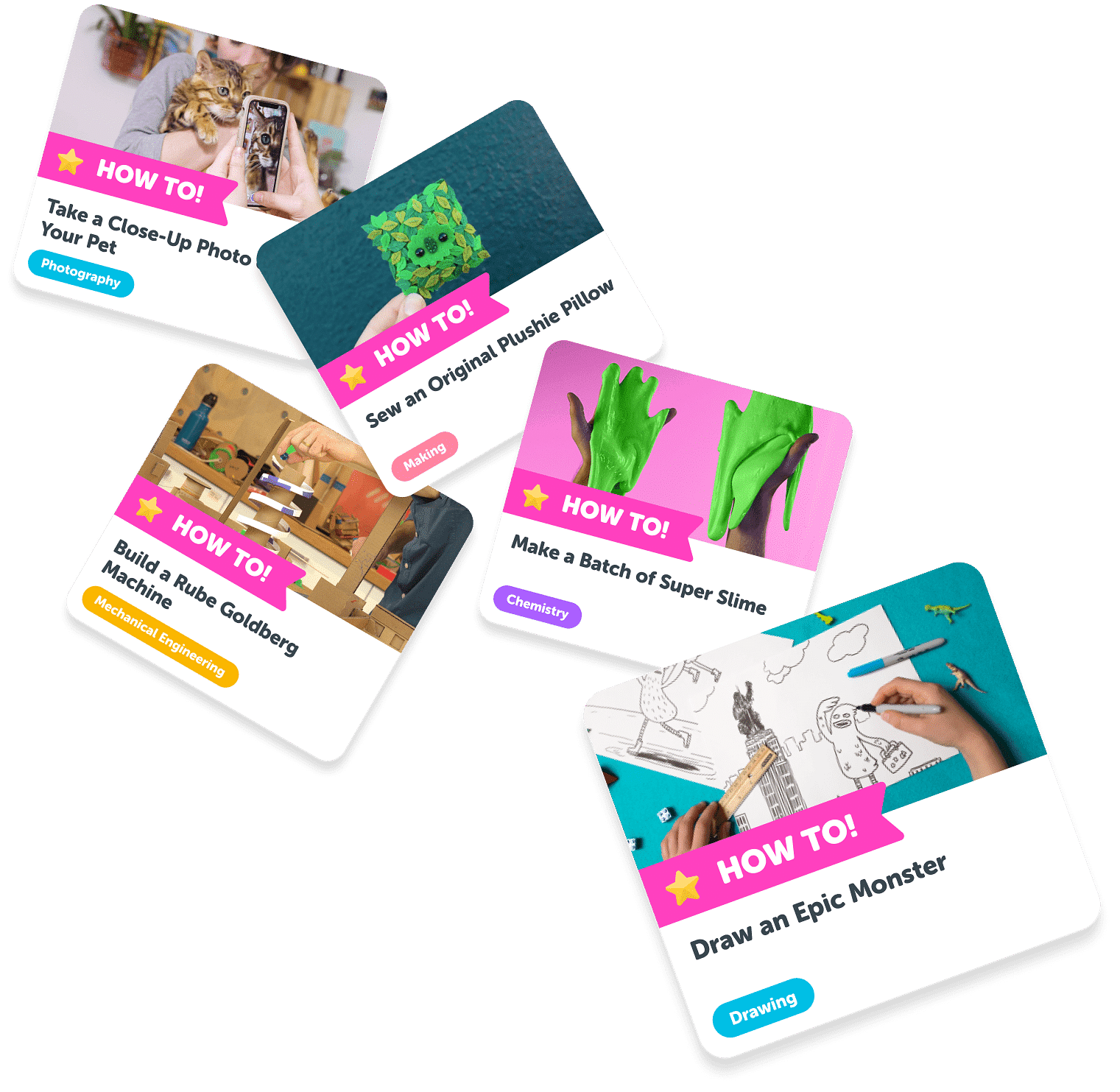 Step-by-Step Videos for
self paced learning
View all Projects
1
Watch Videos or Join Live Classes
DIY's video library is filled with the awesome stuff in the world that delights both parents and kids. Art, innovation, science, laughter and everything in-between. Plus, it's all ad-free.
2
Do Creative Projects
Most videos are paired with projects that kids can do at home. We'll also show your kids videos made by other kids on DIY to inspire their imagination and help them get started.
3
Share Safely
Kids ❤️ making video, but there's really no other online place to safely share. We connect kids who share interests and allow them to exchange feedback with each other. Kids can be both a learner and a teacher here, and it's all moderated.
FAQ
How long does the free trial last?
DIY offers a 30-Day FREE Trial for each family so you have plenty of time to see if it's a good fit. You can cancel at any point during your trial and we'll send you a friendly reminder 48 hours before it ends. If you have more than one kid who wants to try, don't worry. With the DIY plan, you can have up to 4 kids join for free. 🙌
Do I need to buy any materials?
For most courses– Nope! DIY projects are designed with everyday materials in mind, especially stuff commonly found around the house(and inside junk drawers) like paper, pencils, cardboard, glue, and baking soda. No need to purchase any additional items. A couple of courses– Minecraft and littleBits– require that you have access to...Minecraft and littleBits.😊
DIY offers a 30-Day FREE Trial with full access. After your free trial you will start a subscription of your choice. The cost is $7.99/month or $79.99/year depending on whether you want to be billed monthly or annually.
Kids watch inspiring videos, do creative projects, and make their own videos on DIY which gives them amazing opportunities to both learn and inspire other kids. Our moderators make sure DIY remains the kindest online community on the planet and they are available 7 days a week if your kids ever have questions. 💯🌟